For over 50 years we have been supporting businesses in the hospitality sector to provide solutions and services for pest prevention and environmental care
Working alongside


our customers
In the hospitality sector, the positive perception of any locale by consumers bases itself on the hygiene and safety of the environment. Among the decisive aspects are timely pest and odour management. Indeed, behavioural analyses show that scented and clean environments condition people's attitude and mood, encouraging their stay and consumption.
Thanks to its long experience in ENVIRONMENTAL HYGIENE and PROTECTION, Copyr is able to provide hospitality structures with suitable solutions for pest prevention and odour control in compliance with quality, hygiene and human and environmental safety standards and regulations.
Information and training

services
This is a COPYR project to raise consumer awareness of pest issues, pest management and environmental hygiene, and to make available the best information, knowledge and value-added services to partner customers.
The service consists of in-depth thematic information and a library of pest fact-sheets open to everyone and with free access.

Through its Facebook page Copyr Igiene Ambientale, which now has over 6000 followers, Copyr continues to raise awareness in its market and put it in contact with the best hospitality businesses.
Moreover, Copyr has also added a presence on the Linkedin network.
Follow us to stay up-to-date and get the latest news.

An active presence at the top events in the Environmental Hygiene sector.
Copyr organises several training courses both for hospitality sector dealers and their customers, aimed at increasing their skills. In order to give additional support to operators in the sector, Copyr has decided to certify its own training courses in conformity with UNI EN ISO 29990:2011, a synonym of high standards of quality and professionalism.
Together

for continuous innovation
Copyr, Compagnia del Piretro, has always had a focus on protecting users, families and the environment, and it seeks to guide and accompany retailers in the hospitality sector, continuously adapting its services to identify the very best solutions for the defence and protection of environments.
Copyr works with hospitality firms and their sales force, providing them with support and specific advice on pests, environmental hygiene and the choice of the most suitable solutions for treatments.
Always in line with new market trends and aiming at raising awareness and stimulating a wider public awareness of hygiene and pest control issues, Copyr proposes co-marketing communication activities with its partner resellers (including using social media) and provides tools to promote the range in hospitality showrooms.
public and private green spaces
LANDFILLS AND RUBBISH TIPS
PUBLIC FACILITIES AND OFFICES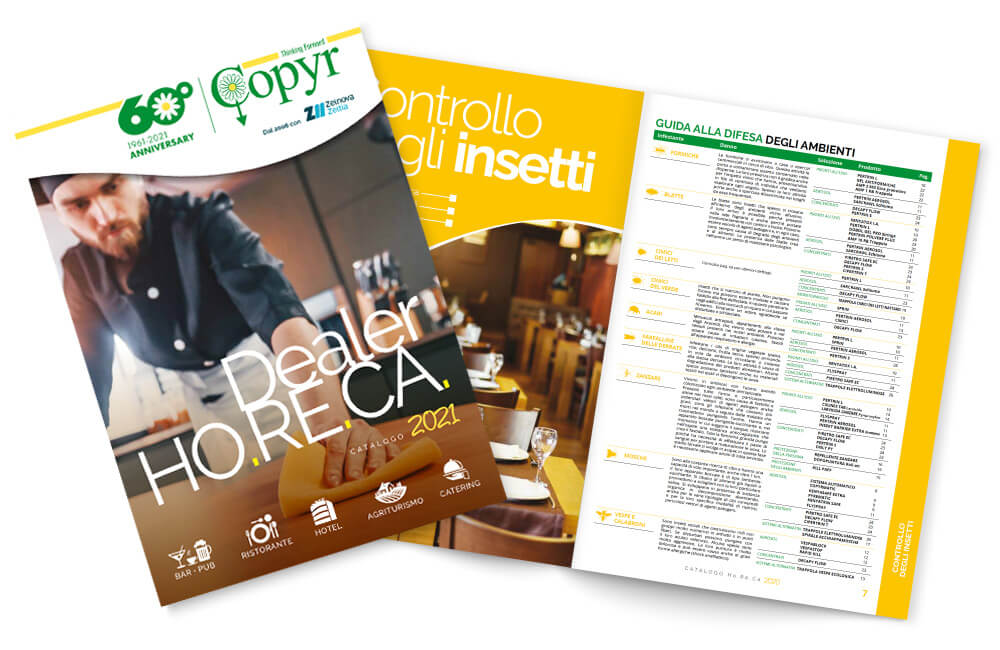 Download our
new catalogue

now, which is packed with technical content that can help the hospitality sector dealer in his choices of programme and pest control.
Do you want to know more about our services?
Contact us to find out more